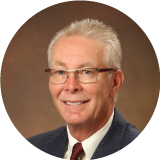 From RBFF Board Chairman
Jeff Marble
President, Marble, LLC
The recreational boating and fishing community is now well into the open waters of 60 in 60. Appropriately so, our attention is forward. All of us are focused on how we are increasing participation through recruitment, retention and reactivation of anglers and boaters to get to our destination. You're about to learn from this report how RBFF and stakeholders moved towards this goal in FY19, and what the year's developments hold for the future.
But before we go there, I'd like to note that this year marks RBFF's 20th anniversary. Yes, twenty years of working to increase participation.
It's a big deal. So let's take a moment to look back — at where we've been.
RBFF started out at a time when fishing and boating participation was headed down and dipping deeper. It was up to RBFF to rally stakeholders and together come to the rescue. And that's what all of us did.
RBFF began allying with some of America's biggest brands and successfully partnering with almost every state in our union. It set the hook for increased participation with the creation of its award-winning Take Me Fishing brand and website, innovative digital tools, and targeted outreach strategies.
Together with state and industry stakeholders, RBFF has made progress, bringing fishing and boating participation to where we are today. Fishing participation is up 20% in the last 10 years. Boating participation is up to 36% of the U.S. population, with fishing the number one activity done from a boat. We're on course to continue taking participation to much-needed higher levels — even as participation suffers from churn and technology competes for Americans' leisure time.
In fact, we have a long way to go, the reason RBFF's work is as vital as ever. RBFF is developing new R3 tools, ideas and campaigns — that research confirms are working. And it's continuing to help stakeholders build their R3 skills and learn from each other's programs.
RBFF has just charted its course for the next three years with the FY20-22 Strategic Plan, developed and adopted in FY19. Thanks to the plan, we all know where we're going. So let's pause to give RBFF's success to-date a nod … and now, press on ahead.