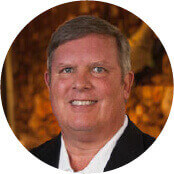 Message from RBFF Board Chairman
Jeff Pontius
Retired CEO, Zebco Brands
There's an old saying, success happens when opportunity meets preparation. That was the story of RBFF's FY21. RBFF had spent years building the capabilities and infrastructure that let us respond to the pandemic so successfully. We had spent years researching how people feel about fishing and boating, building our own internal staff, building relationships, and furthering the capabilities of our partners.
So when COVID hit, we were prepared. Early traffic to our website and social media, as well as license sales, told us we should not hold off on our marketing. Instead, we should dive back in, modifying our message and broadening our targets. We should see COVID for what it was: a historic chance to be one of the preferred and available recreational options for people, even for those who hadn't considered fishing and boating in the past. Working together with the National Marine Manufacturers Association (NMMA) and its Discover Boating brand, we developed the new Get on Board campaign in record time, and as the sole agency tasked with participation building, we were able to integrate its message across all our vehicles and stakeholders. Participation in fishing and boating quickly grew.
This growth in participation has meant great returns for everyone. The millions of dollars these newcomers will spend on supplies and equipment, on licenses and registrations, far exceed our investment in attracting them. Our industry partners are now reinvesting in inventory to keep up with demand and to make sure participants have such a good experience they'll want to continue. Our state agency partners have recognized the value of marketing expertise, taking on dedicated R3 coordinators, and they are learning from each other's R3 experiences through our State Marketing Workshop and grants. State agencies are serious about R3, and it's working.
The challenge for all of us this coming year is to retain these new participants. Through our research, we know who these new boaters and anglers are, and which messages and vehicles they most strongly respond to. Now we'll focus on making fishing and boating a permanent part of their lives.